Talk to your home with a voice-activated assistant. Will control Nest, Spotify, Uber & more!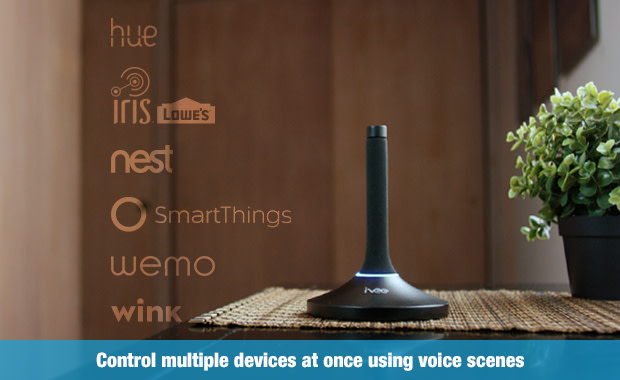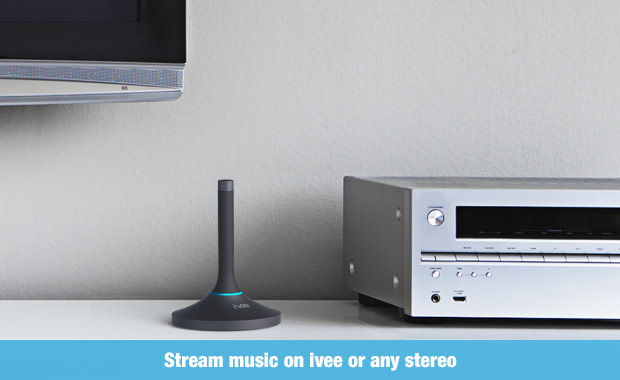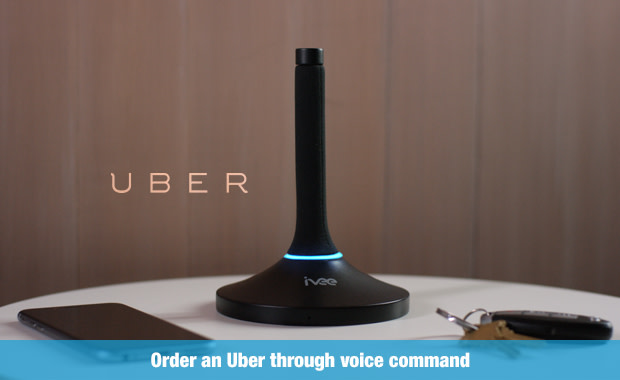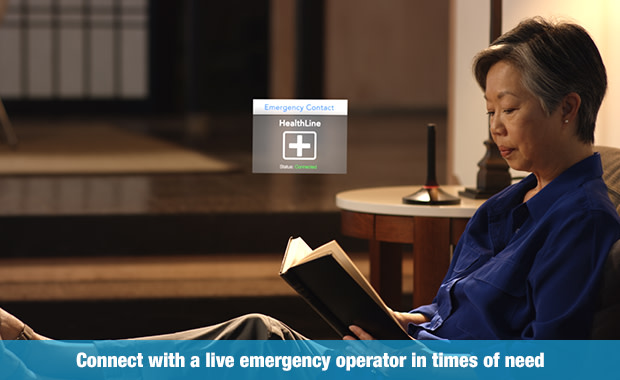 What can you say to ivee?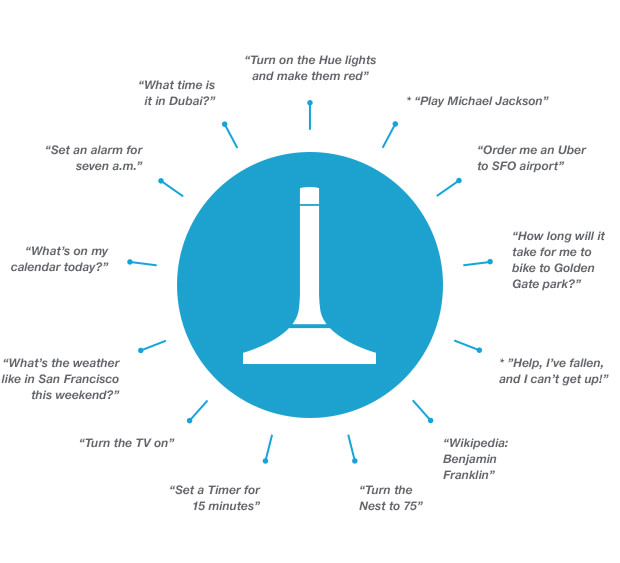 *Requires 3rd party premium service
What devices will connect with ivee?
ivee will control Nest, Belkin WeMo, Philip's Hue, Logitech Harmony, SmartThings, Wink, and Lowe's Iris. We will be adding new features on a continuous basis. ivee's platform is open and flexible.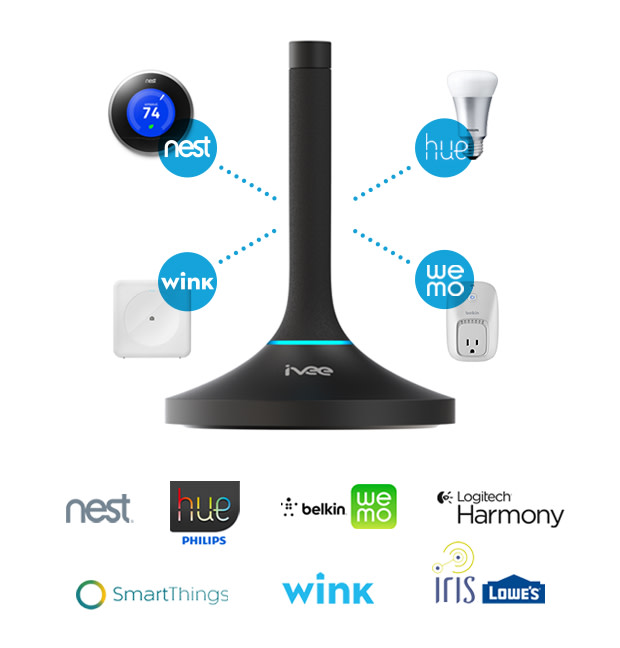 What services will connect with ivee?
Uber, Spotify, and the Emergency Service are the three services

that will be immediately accessible at launch. As new on-demand services become available, we will continue to add them to ivee.

How does ivee work?
Easy Set-up
We've made set-up incredibly simple. Just follow these 3 easy steps.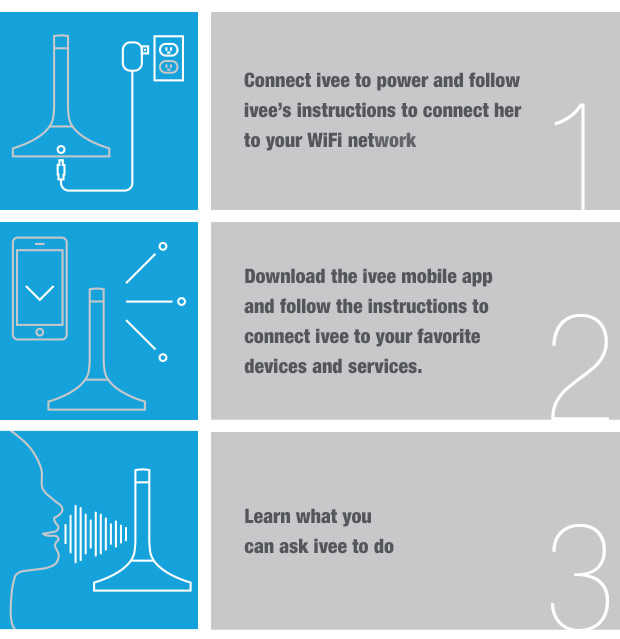 Controlling ivee by voice
Using voice control is quick and easy.
Simply say "

Okay ivee

" to wake her. ivee's LED ring will then light up blue indicating that she is listening for a voice command.




Then give her a command or ask her a question, for instance

"

Okay ivee, What's the weather going to be like in San Francisco?

"



ivee will process your request quickly and reply accordingly.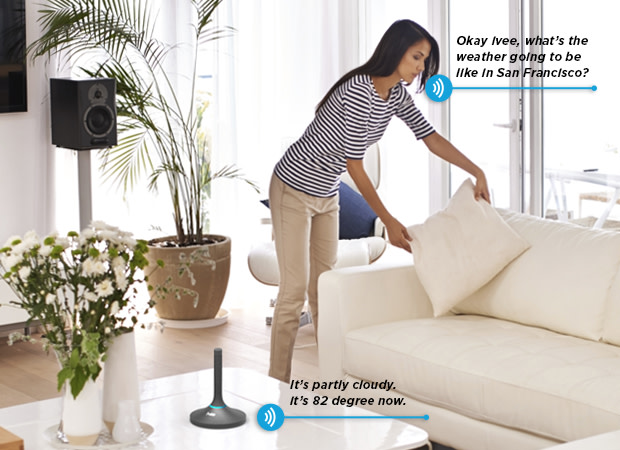 Mobile App
The mobile iOS & Android app makes it easy to set-up ivee and connect her to your favorite devices and services. Use the ivee app for set-up, configure ivee for different rooms (multi-room support), and create voice scenes. Custom "scene" commands offer a simple way to create the perfect setting, such as "movie time" prompting blinds to lower, the TV to turn on, lights to dim, and temperature to decrease.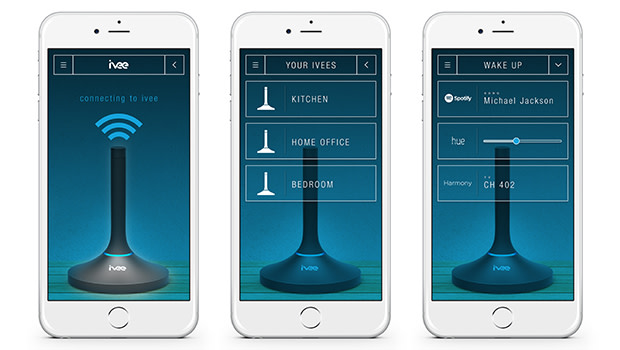 Functionality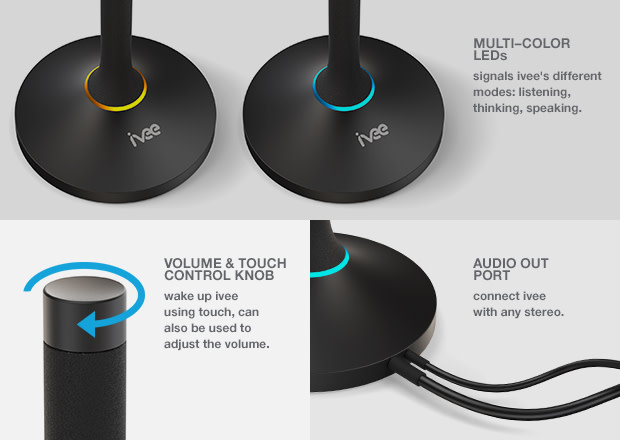 Technology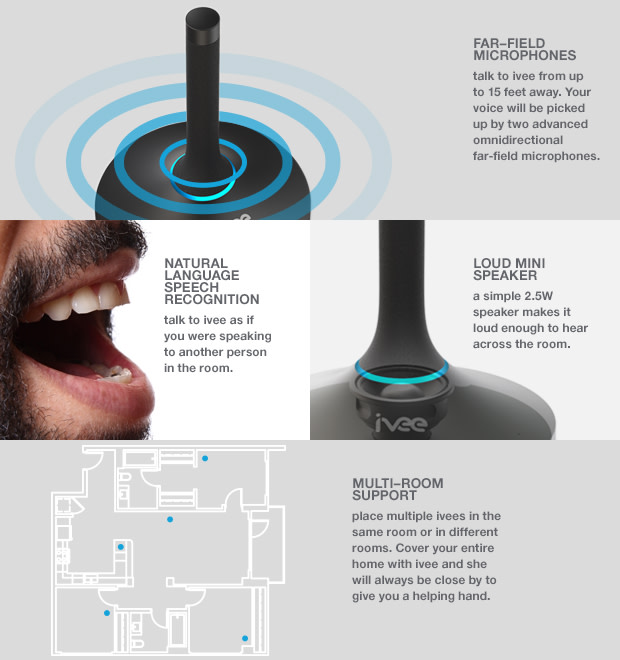 Who are we?
We are entrepreneurs, engineers, and investors who are passionate about bringing voice to the connected home. We believe voice is the enabler for the smart home.
ivee Team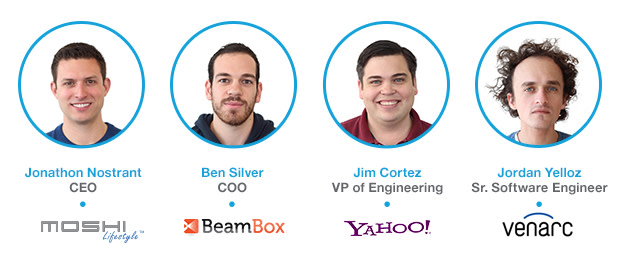 Notable Investors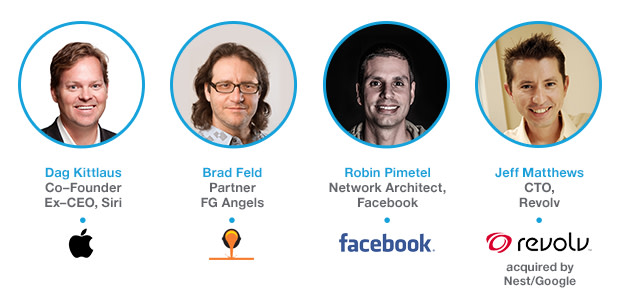 Bringing ivee to Life
Earlier this year, we explored hundreds of different designs and concepts. We needed to find the one that felt as natural as possible, yet intriguing to talk to.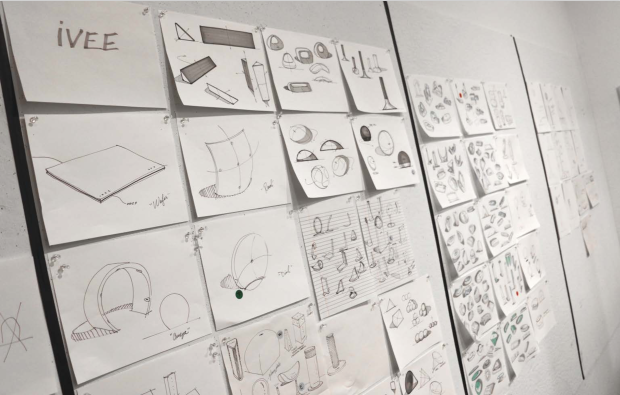 We ended up choosing a design that looked very unique. It appeared as if a microphone was growing out of the ground! We felt this design was a perfect fit for voice interaction.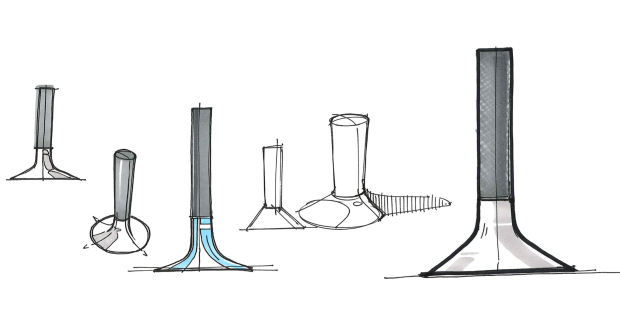 The basic shape proved to be perfect for our microphone and speaker technology. We began to explore and test performance on various samples.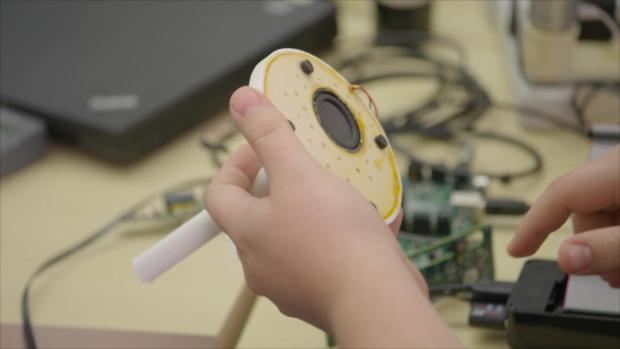 Test results showed that the design was a successful match with our technology and we proceeded to create two prototype samples.
At this time, our prototypes are working and we are eager to move them into production!
Developer Tools
ivee is completely open and flexible. In 2016 we will be launching an API that will let creators add and create their own voice applications. We anticipate a general release of the API in Q1 2016, but will be releasing a limited API for developers before that time.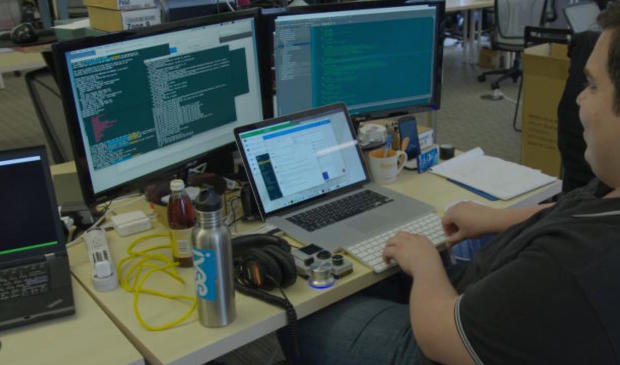 Tech Specs
Small Enough to Fit Anywhere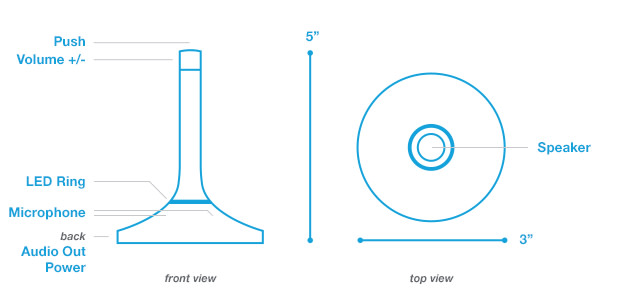 Nitty Gritty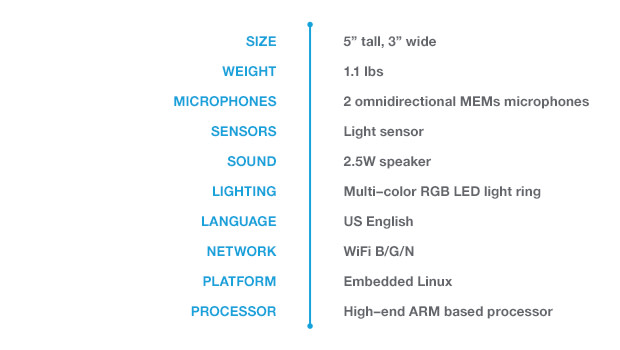 Project Timeline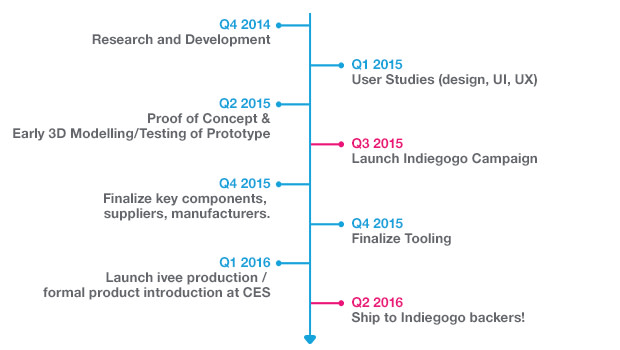 Why do we need your support?
We need your support to take our product from prototype to production. We currently have several working prototypes, but the support from the Indiegogo community would provide much needed funding for tooling as well as our first production run.
Shipping Information
When do we ship?
We expect our first production run to ship in June 2016, with all backer orders fulfilled by the end of July 2016. Early birds will receive their shipments first.
We vow to keep all backers regularly up-to-date with shipping information and order status. Please reach out to support.helloivee.com with any questions.
Where do we ship?
ivee will ship to the US, Canada, EU (all 28 countries), Norway, Switzerland, Australia, New Zealand, China, Taiwan, Singapore, Hong Kong, Vietnam, Indonesia, Thailand, Brazil, Argentina, Chile, Peru & Mexico. International shipping dates may vary pending certification in individual countries. ivee Voice currently only supports US American-accented English. Other languages and accents will be added in the future.
FAQ
This looks great, but really, how many features will be available at launch?
We're launching with several integrations already in place. These will include: Uber, Spotify, Nest, Logitech Harmony, Philips Hue, Belkin WeMo, SmartThings, and Lowe's Iris. We're working hard to have more features available by the time backers receive their ivees, and will continuously update our Indiegogo page with new information.
When will my ivee ship?
ivee is currently scheduled to ship in June of 2016.
Where does ivee ship?
We currently ship to the US, Canada, EU (all 28 countries), Norway, Switzerland, Australia, New Zealand, China, Taiwan, Singapore, Hong Kong, Vietnam, Indonesia, Thailand, Brazil, Argentina, Chile, Peru & Mexico. International shipping dates may vary pending certification in individual countries. ivee Voice currently only supports US American-accented English. Other languages and accents will be added in the future.
Is ivee Male or Female gendered?
ivee is gendered "female." We will launch a "male" voice in the future.
Can I name ivee something different?
Right now you'll only be able to activate ivee using the trigger "Okay ivee." In the future, we will release a feature that allows our ivee owners to choose a custom trigger name.
Can I have multiple ivees in the same room?
Yes, multi-room support will be available at launch. This means that you can put two ivees in the same room and only have one respond back to you (the one that hears you most clearly). You will also be able to add multiple ivees to the same ivee account.
What languages does ivee support? What other languages will ivee support?
ivee understands US North American-accented English when she first arrives, but we are working on bringing other languages to ivee soon.
Do I need a Wi-Fi network?
Yes, you need a Wi-Fi network. ivee will connect to any router that supports Wireless B/G/N protocols.
Are batteries required?
No, there are no batteries requires. You just have to plug ivee into a power outlet.
Can I connect ivee to a louder speaker system?
Yes, there's a standard 3.5mm auxiliary line out port, which lets you connect ivee to a loudspeaker or stereo system.
Can I interrupt ivee when she is speaking or playing music?
Yes, you can say "Okay ivee" to interrupt her from talking or playing music. She'll listen to you for a new command. If the music is playing, the volume will lower to allow you to say the command.
How big is ivee?
ivee sits around 5 inches tall. Small and inconspicuous enough to be placed anywhere in your home!
Is ivee always listening to me?
No, ivee is only listening for the trigger words "Okay ivee" at which point she will wake up and listen for a voice command. Once you stop speaking, ivee stops listening in order to process your command. We highly value your privacy and guarantee that ivee is never listening to your conversations unless she is prompted first.
How secure is ivee? Can someone hack into my ivee?
ivee uses SSL encryption to secure personal data sent to and from the cloud; and a 256-bit AES encryption in the cloud. Digital certificates are used to authenticate devices. We prioritize safeguarding our users' privacy! We work diligently to protect your information from unauthorized access and have implemented policies and controls to safeguard the collection, use, and disclosure of your information.
What data is stored?
We only store limited information about you and your device. This information includes: location data, voice utterances, name, information required to connect to your WiFi network and other basic preferences.
Where is my data stored?
Your data is stored securely in the cloud.
What if there is a power failure? Does ivee have a built in backup battery?
Nope, both you and ivee are not going to have fun when the power is down.
How do I connect my devices and services with ivee?
You use the ivee mobile iOS & Android app to connect ivee to the available services and devices.
Are updates sent out to my ivee automatically?
Yes, your ivee will get smarter and smarter each and every day. If you have a feature request, please feel free to drop your suggestion on our community page here.
How will Uber know what size car I need?
ivee will use the Uber settings from your last ride. If you chose an UberX as your last Uber ride, ivee will use the same settings.
Do I need to pay for premium services? How do I go about registering premium services, like Spotify?
Premium services like Spotify will require a Spotify Premium account (monthly subscription is required). You will need to set-up a Spotify Premium account on Spotify's website first.
What about the Emergency Service?
We will announce more information about the Emergency Service when it's available. There will be a monthly subscription for that service as well.
Will ivee be an open platform? How do I develop for ivee?
We are currently working on an open API for developers, where you will be able to develop voice applications and services for the ivee platform and device. We plan to release more information on this by the end of 2015. For related inquiries please email developers@helloivee.com.
What is the warranty?
All product specifications, illustrations, drawings, particulars, dimensions and other information on the Site or made available by us are intended to represent no more than a general illustration of the Product and its features and do not constitute a warranty or representation by us that the Product will conform with the same.
Who are your industrial design & hardware design partners?
We worked with Whipsaw Inc and we highly recommend them. They've worked on great consumer products like Google Chromecast, Nike FuelBand, and the original Dropcam. Gener8 came highly recommended to us and handled all our mechanical and electrical design needs. They have worked with companies like August Smart Lock and Nest.
Are you currently hiring?
We are always looking for talented people who are passionate about A.I. and voice recognition to join our team. Please visit angel.co/ivee/jobs to see our open positions!
If I'm press, how do I get more information?
To make a request for a press kit, please email
ivee@astrskspr.com
.
I have questions, how can I reach the team?
We'd be happy to help answer any other questions. We are receiving a lot of support requests and are working to respond as fast we can!
For questions related to the Indiegogo campaign, you can email support@indiegogo.com
For questions related to ivee you can email hello@helloivee.com